Blog
"Invasion" with AngÉnieux anamorphic zoom lenses
13.01.2020
"Invasion" is a sequel of popular Russian Sci-Fi Movie Attraction (2017) directed by prominent Russian director Fedor Bondarchuk*. Attraction, that spoke about an extraterrestrial spaceship that crash-landed in the Chertanovo district of Moscow, was the fourth Russian film transferred to Imax 3D format and became the highest-grossing Russian Sci-fi movie with more than 1 billion rubles. 
For Invasion (working title Attraction 2) starring Alexander Petrov, Irina Starshenbaum, Yuriy Borisov, Oleg Menshikov, Fedor Bondarchuk chose to work with famous director of photography Vladislav Opelyants** great fan of Angénieux anamorphic zoom lenses that he previously used on #Selfi (2018)
On #Selfie (2018) Photo Irina Saeda. Production Kinostudia Slovo Ltd
A $12 million production budget
 "
The production period of "Invasion" took 4 months from July to October 2018, with around 65 shooting days for a main unit and 35 days for a 2nd unit. The shooting was placed mainly in Moscow region, but also in Kamchatka (far east region of Russia) and in Budapest, Hungary. The production budget was around 12 million USD, without marketing and promotion costs" 
tells Michael Kitaev – Film producer –
"We mainly used two ARRI Alexa Mini 4:3 cameras and a Alexa XT as additional. They were equipped with the Hawk V-Plus Anamorphic set, plus Angénieux anamorphic zooms. We've used the Angénieux lenses almost all the time during the shooting period and really enjoyed the image quality. In Siberia, we did absolutely fabulous aerial shots in Kamchatka"
Valdislav Opeylants accepted to give us his feedback regarding Angénieux lenses. 
 "We've used the optics of Angénieux actively. They have been one of the main stylistic devices for the movie. The main advantages of those anamorphic compact zoom lenses for a DoP: lenses are lighter, they are compact, they can be used for shooting from hands. It is very convenient in use for the zoom effect for action scenes, on suspensions, on cranes, drones or even helicopters. Without changing the optics you can make a visual accent. You can create video effects that were not available before. For example, dolly zoom, when you ride the cart forward, and zoom out on the zoom. When the focal length changes, the depth of field changes, this gives a beautiful optical effect. The Angénieux optics revealed excellent plasticity, depth, crystal transparency, and compatibility with fixed focus lenses. Sometimes, I shot both on zoom and prime. For other creative solutions, it was stylistically better to use only zoom. For all its sharpness, where it's necessary to be sharp, the optics of Angénieux are absolutely cinematic. After all, the nature and plasticity of the images is most important for the DoP"
Anamorphic aerials in Kamchatka
Angénieux French optics were also selected by Vladislav Opelyants and Fedor Bondarchuk for aerial shots. Shots took place in Kamchatka and were made by French company XD-motion. Benoit Dentan, XD motion CEO and also aerial operator, was in charge of these strategical takes for the final scenes of the movie with the help of Fernando Narvajas, GSS technician.
Although Kamchatka lies at similar latitudes to
Scotland
, cold arctic winds from
Siberia
combined with the cold
Oyashio
sea current keep the peninsula covered with snow from October to late May. Also known as the "land of fire and ice", the Kamchatka peninsula has a high density of volcanoes and associated volcanic phenomena, with 19 active volcanoes included in the six UNESCO World Heritage List sites. 
"
This extreme shooting at the end of the world above volcanoes was a world first.  We equipped the Russian Ecureuil helicopter with the GSS Cinema Pro+, a great stabilized platform option to integrate the most popular payloads … perfect for use in any scenario ! Even this one. "
says Benoit Dentan
"The equipment carried , around 32 kg, was an Alexa mini camera that was connected to the control room with the Full menu Interface on PC. The operator Vladislav Opelyants selected two Angénieux optics :  the Optimo 30-72 A2S anamorphic zoom lens (5.3 lbs – 2.4 kg) and the Optimo 24-290 spherical zoom lens (24.2 lbs – 11 kg). After one day- tests, we took off, Fedor, Vladislav, Fernando and I, for two days in this wild and beautiful setting of Kamchatka. For the first day we worked with the compact anamorphic zoom lens for spectacular shots over volcanoes and valley to follow the hero's  huge Russian MI helicopter . Second day was with the 12x zoom lens to shoot the hero on the moon style ground. We installed them in the nature at night …. Outstanding moment for an occasion to remember. Using anamorphics for aerial shootings is not very common. This Optimo 30-72 A2S is amazing, the building is robust and beautiful, and the quality of image is the best ever used. The rendering is great. Vladislav and Fedor were really impressed by the result."
Optimo 30-72 A2S and Optimo 24-290 integrated in GSS gyrostabilized system with direction team.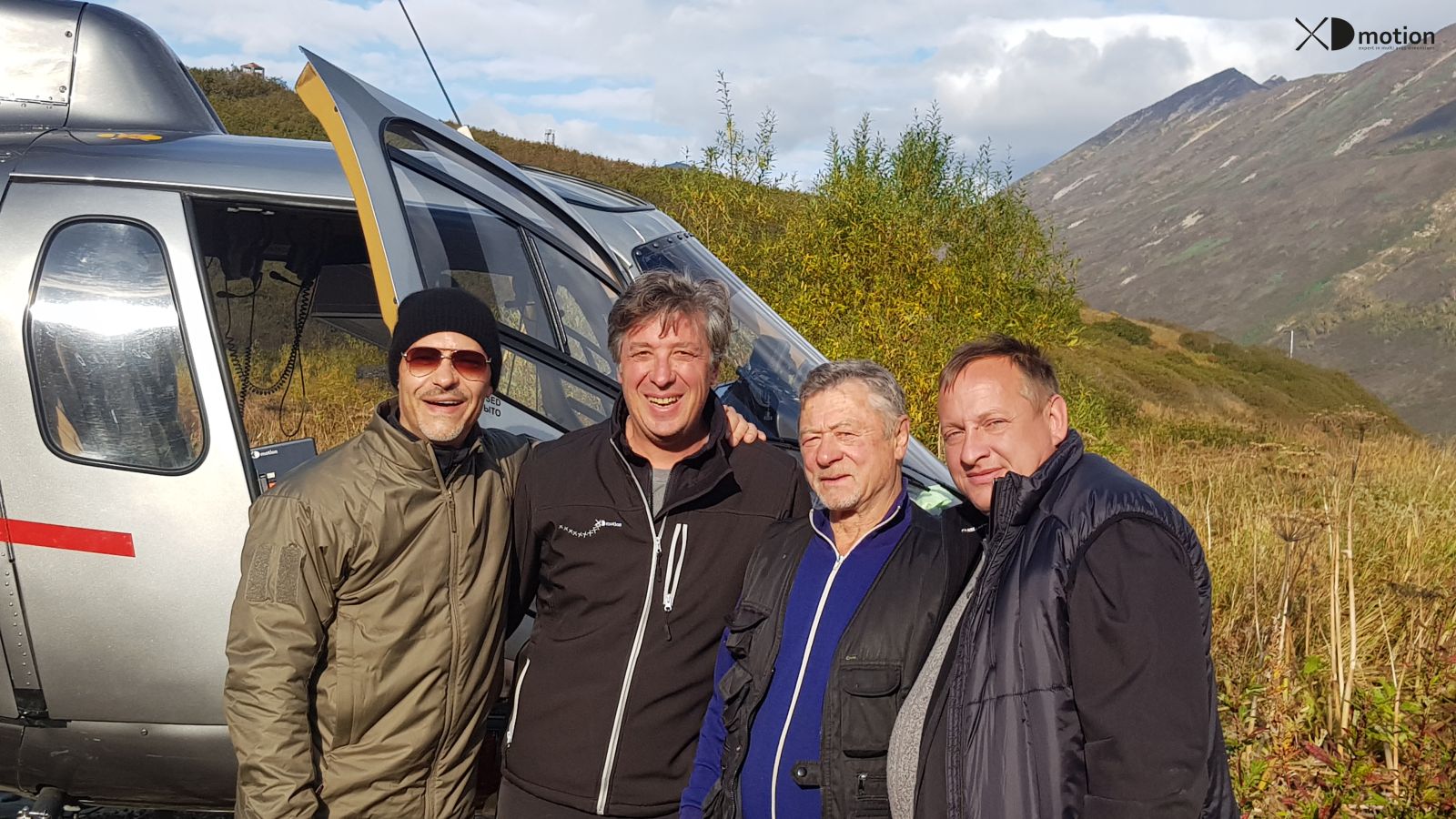 "Invasion" released on January 1, 2020 in Russian theaters, on January 3 in Latvia and Lithuania and January 9 in Germany. 
** Vladislav Opelyants, famous Russian DoP.  Leto (2018 – with former Angénieux 16mm optics) was in Official Competition at Cannes Film Festival. He is also known for #Selfi (2018 – with Angénieux anamorphic zooms), Hostages (2017), (M)uchenik (2016)
Get the
Latest news!
Be the first to receive the latest news of the brand,
products and upcoming events.