Blog
Souvenirs of "The Pierre Angénieux Excellens in Cinematography" Previous Editions
09.05.2018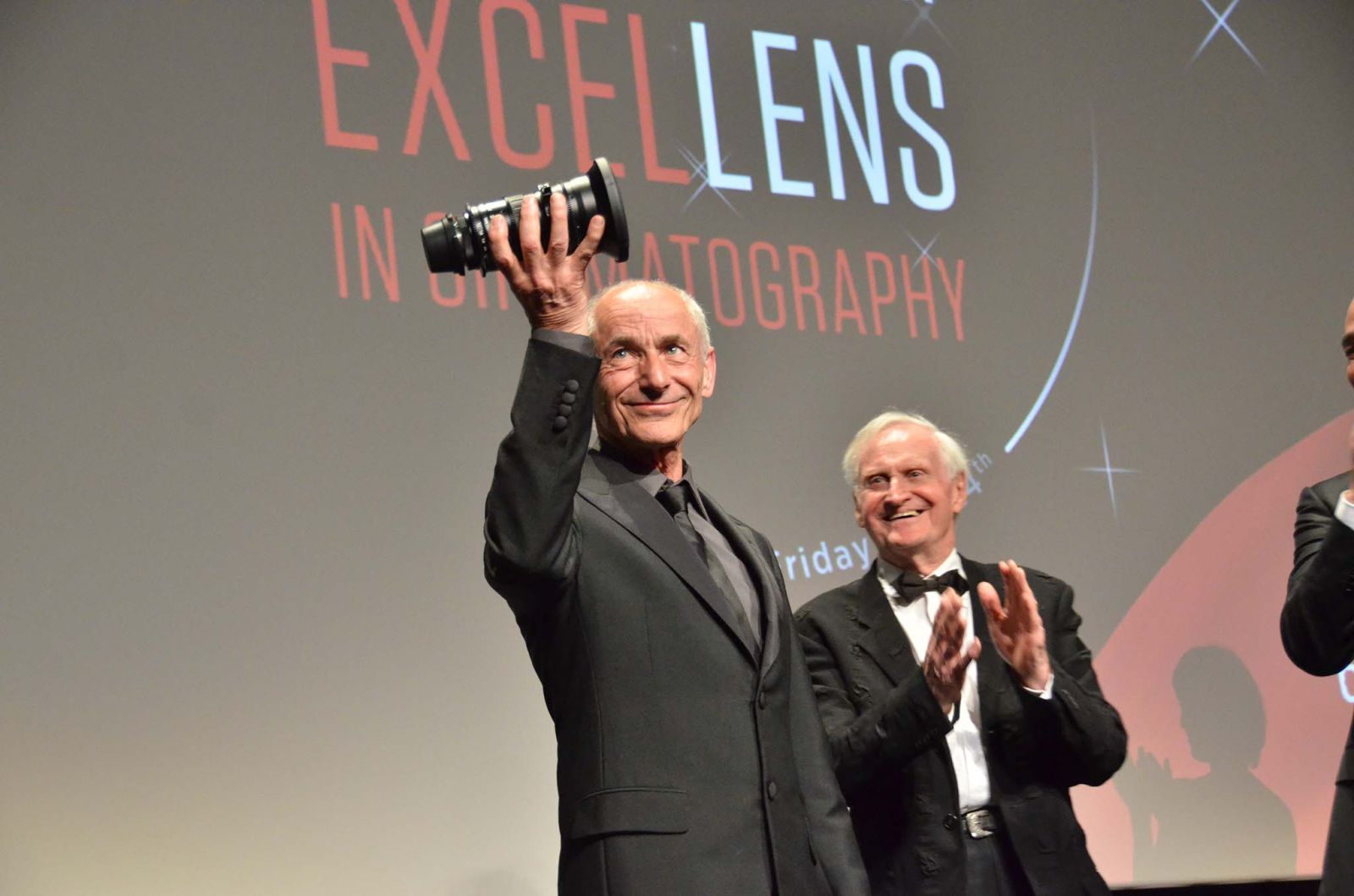 2017 Edition
In 2013, for the first time in its history, Angénieux became an Official Partner of the International Cannes Film Festival. On this occasion, Angénieux created the "Pierre Angénieux ExcelLens in Cinematography" a ceremony to highlight the work of Directors of Photography.
During an exceptional evening in the heart of the 71st Cannes Film Festival  in the presence of prominent figures and talents from the cinema world they worked with, every selected director of photography receives  the Angénieux tribute – an Angénieux zoom with their name engraved.
In 2016, on the occasion of the 4th edition of the Pierre Angenieux ExcelLens in Cinematography, Thierry Frémaux – General Delegate of the Cannes Film Festival – said :
« .. And I wish to say again that Angénieux has had a beautiful idea, and that this event has become a rendez-vous to gather and honor one of the great cinematographers. Little by little, this palmares is sketching another map of world cinema, another "Map of the Stars" — the great stars of cinema lighting. The Cannes Festival is therefore very pleased to partner this award." 
In 2013, Angénieux paid tribute to Philippe Rousselot AFC* ASC
The thing which is most fascinating about Philippe Rousselot is the wide range of his talent. He has been able to master the powerful and supernatural colour of blue in Diva by Jean-Jacques Beineix in 1981, the subtle shades of dusk in the drama by Patrice Chéreau, la Reine Margot (Queen Margot) in 1994, or a disturbing chiaroscuro in Mary Reilly by Stephen Frears in 1996. His collaborations with Tim Burton on The Planet of the Apes in 2001, Big Fish in 2003 and Charlie and the Chocolate Factory in 2005 also showcase his talent in the fantasy genre. Over the course of his career, Philippe Rousselot has become one of the most highly acclaimed directors of photography in international film.
In 2014, Angénieux paid tribute to Vilmos Zsigmond HSC ASC.
Zsigmond's real cinematographic career began in Hollywood in 1971, thanks to Robert Altman on the film, McCabe & Mrs. Miller. Working from film to film, Zsigmond became one of the most highly demanded directors of photography in film and television.
Nominated for an Oscar for The Deer Hunter in 1979, The River in 1985 and The Black Dahlia in 2007, it was in 1978 that he won this ultimate award for Close Encounters of the Third Kind. Honoured with a Lifetime Achievement Award at the International Film Festival of the Art of Cinematography Camerimage in 1977 and the American Society of Cinematographers in 1999, Zsigmond has gained recognition and his films have become references for the entire profession.
In 2005, Zsigmond and Kovacs were two of the four recipients of the Trophy of Legends of the Hungarian Society of Directors of Photography. Vilmos Zsigmond passed away on January 1st, 2016.
In 2015, Angénieux paid tribute to Roger Deakins BSC ASC
His collaboration with the Coen Brothers started in 1991 with Barton Fink. He begins to get noticed by film critics and wins several prizes.
Roger A. Deakins works with the greatest movie-makers: Martin Scorsese, Paul Haggis, Sam Mendes, John Sayles, M. Night Shymalan, Ron Howard, Edward Zwick, Tim Robbins, but he also likes to work with more confidential movie-makers, like the Polish Agnieszka Holland, Denis Villeneuve (Prisoners, Sicario), and with new movie-makers like Angelina Jolie (Unbroken).
Roger A. Deakins is a thirteen-time Academy Award® nominee for Best Cinematography. He got it in 2018 for Blade Runner directed by Denis Villeneuve.
2016, Angénieux paid tribute to Peter Suschitzky ASC
"At the end of the first year my teacher told me that I was good at pushing the dolly so I left the school and started in documentary films as an assistant, a very bad and dangerous one simply because I invented mistakes as yet unknown, which troubled the cameramen with whom I worked. I was almost obliged to become a director of photography because pretty soon no director of photography would want me. Of course, I didn't think like that. I was just lucky and at the age of twenty two I was photographing my first movie. This was so young that no one had ever heard of such a thing in Britain. I then had a carte de visite. I could say that I had photographed a movie and what's more it had been shown in the centre of London. Other movies then came my way one after another and I didn't realize or appreciate just how lucky I was. Now I know… » Peter Suschitzky
2017, Angénieux paid tribute to Christopher Doyle HKSC
Christopher Doyle (also named Du Ke Feng) is certainly one of the most brilliant cinematographers of his generation. Doyle's way of shooting is very instinctive, very dynamic, most of the time hand-held to put the audience at the closest of the action.
"The function of the cinematographer is to be the bridge, the conduit between the audience and what's in front of the camera. To me there are only three people in cinema: the person in front of the camera, the audience member, and the person who is the real passage between them -the cinematographer. Of course director and producer facilitate the interface. But for the engagement to be direct and compelling, I really believe we have to be transparent and remove ourselves enough so that the passage between the actors and audience is direct."
Doyle used the constraints of low budgets and tight spaces to find rythm and energy in his shots: a unique style that he adapted to bigger budget movies. Extreme angles of views even for close-ups, unusual color palettes, unique lighting are Doyle's cinematography signature. To serve this kind of images, the zoom lens is an ideal tool. It is always part of Doyle's equipment list, especially the Angénieux. Optimo 15-40. Christopher Doyle has made (so far about) sixty Chinese-language films: Chungking Express (1994), Temptress Moon (1996), Happy Together (1997), In the Mood for Love (2000), Hero (2002), American Dreams in China (2013), Port of Call (2015). But he also made Psycho (1998), Last Life in the Universe (2003), Rabbit-Proof Fence (2002), Paranoid Park (2007), The Limits of Control (2009) and Endless Poetry (2016) etc. are all films Doyle is more than proud of: so called Indie films that we can only hope that "the system" allows some of you to actually get a chance to see.
Next May 2018, in the Buñuel room, in the Cannes Palais des Festivals, Angénieux will pay tribute to American famous Director of Photography Edward Lachman (ASC). On the occasion of the 6th edition of the « Pierre Angénieux ExcelLens in Cinematography » ceremony , Angénieux also decided to highlight the work of a young talent of Chinese cinematography : Cécile Zhang. Cecile graduated from the Beijing Film Academy with the honors and since then has been making feature films, short films, documentaries and commercial.
* AFC : Association Française des directeurs de la photographie Cinématographique ; ASC : American Society of Cinematographers ; HSC : Hungarian Society of Cinematographers ; BSC : British Society of Cinematographers ; HKSC : Hong-Kong Society of Cinematographers
Get the
Latest news!
Be the first to receive the latest news of the brand,
products and upcoming events.